"Carrie & Morgan Exhibit at 529 Bangs", Michelle Gladden, Asbury Park Sun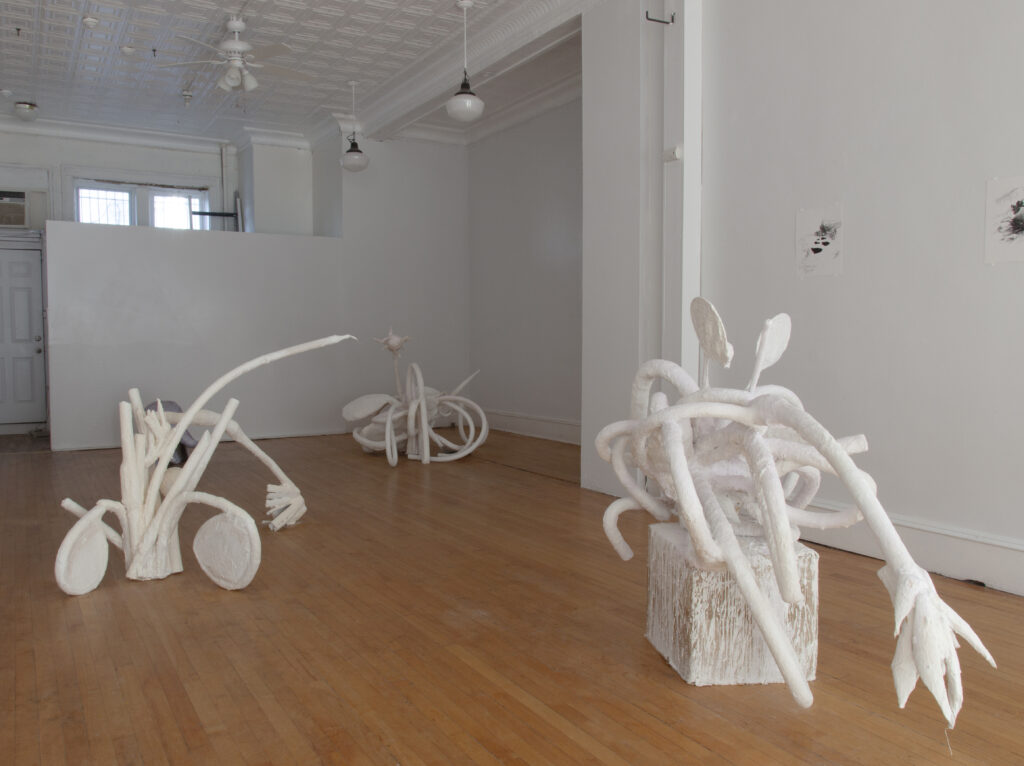 A closing reception will be held from 7 to 11 pm for Carrie & Morgan, the current exhibit at The Collective Art Tank at 529 Bangs Ave.
The show features new sculptures by Asbury Park creative Carrie Ruddick and ink drawings by Brooklyn based artist Morgan Daly.
For the first time, Ruddick, who has spent the past five years actively promoting the works of others, has put forth a collection of her art at the gallery known for its continued support of independent and burgeoning artists.
"This show is incredibly meaningful to me," Ruddick said. "Since I moved here in 2014 I've spent much of my resources as an artist advocating, promoting, and supporting the arts around me. This, however, is the first time I am debuting my own artwork in Asbury Park."
Ruddick, who works at Princeton University, said she first met Daly while studying at Mason Gross School of the Arts at Rutgers University. The two obtained their bachelors of fine arts degree from the New Brunswick based institution.
While their collaboration was done remotely, through the sharing of photos, Ruddick's whimsical elements of a graveyard series proved a balance to Daly's molecular, skeletal and botanical ink on paper series.
"Without really being in the company of each other while we were doing this, we realized her drawings related to my pieces," the 29-year-old said. "I was thinking a lot about death and decay in nonliteral ways. I have these plants in my studio and I was working with new materials when I started to realize that the sculptures were looking really organic and botanical. When I looked over at my plants in my studio and realized they were wilting and dying, and then I realized maybe subconsciously I'm freezing in place my dying plants but I really like making exaggerated forms."
Ruddick's sculptures are comprised of long tubular foam tubes wrapped in wire, plaster cloth, aqua resin, a Hydro-stone plaster and tinted in light hues. Her nod to the elements of a graveyard in unusual scale features small, rounded objects with protruding appendages that make light of the heaviness of a tombstone, she said. The large, tubular sculptures are pinched at a singular point of restraint like a bundled bouquet, growing, arching, and drooping from weighted ends.
For Daly, the drawings represent a lymphatic system of lines and space, draining, flowering, decaying, sprouting, floating, both majestic and vulnerable in their functioning forms, she said.
"The drawings started off as an exercise to release a creative clot," she said. "When I was a kid, my father shared with me this drawing strategy where you make a bunch of scribbles and gestures and start to find things within the mess, shading and outlining things until they take familiar form. I applied to this idea to pen and ink drawings, a medium that could only be compounded not erased, allowing myself the tools of retracing, shading, and pause to guide the forms. Through repetition a trust developed, where I was able to join experimentation with clear formal boundaries, using both the white of the paper and density of line to build something of mass. The drawings, in turn, have an active cellular nature."
The Carrie & Morgan closing reception will be held from 7 to 11 pm July 27 at The Collective Art Tank at 529 Bangs Ave. For more about the series and the artist, visit their website and Instagram page. The show will remain through Sunday.
"Morgan and I do not have the support of a commercial gallery behind this, or the funding of a non-profit," Ruddick said. "We saved up our own money to rent out the ArtTank space, made all of the artwork, fixed up the gallery space, and did all of the marketing, on top of both working full-time jobs. While it would be great to sell some of our work, we don't anticipate making any of the money back that we spent. We just want people to see the result of our labors."